The Health Benefits of Giving
Candyce Silver, M.D.

From as far back as I can remember, without fail, my father would donate a pint of blood at our local blood bank every six weeks. He did this to grow the blood bank accounts of my mother's nephews who suffered from hemophilia and were in need of an ongoing supply of healthy blood. His broad smile and abundant energy when he arrived home from the hospital each time revealed that far from being a "sacrifice" on my father's part, this recurring donation was beneficial and healthful to him. What he naturally experienced through the years is now being studied systematically with the following conclusion: the act of giving of oneself is beneficial not only to the recipient, but also to the donor's health and sense of well being.
In the case of donating blood, that priceless pint of blood gifted to another human being can actually rid the body of excess iron, which in turn can prevent the buildup of free radical formation in the body. Free radicals are associated with an increased risk of developing certain diseases such as cancer and heart disease. By sharing our healthy blood cells with others, we also replenish and renew our blood supply in a beneficial way. In a more figurative sense, while performing altruistic deeds, we can also experience a renewal of our inner cache of treasures.
I joined "Be the Example" because I liked the idea of promoting activities and opportunities that would not only benefit worthy charities in a tangible way, but would also inspire personal growth and create the more intangible heart expanding emotions evoked by altruistic acts. In a world filled with so many "bottom lines," it is easy to lose touch with the importance of empathy and respect for others and their differing circumstances. Moreover, the act of giving, be it sharing of one's time, talents, experience, compassion or money, pays high dividends to the donor. Aside from reminding us of our humanity and the need to stay connected to others in a meaningful way, research demonstrates that there is, indeed, a medical basis for the physical benefits of giving.
Recent studies from several academic institutions have associated qualities such as altruism, compassion and gratitude with living longer, healthier and happier lives. Research has shown that the act of giving can alleviate depression, reduce chronic pain and slow the aging process. Performing good deeds leads to positive feelings and enhanced self esteem which in turn may result in the release of endorphins or natural neurotransmitters in the brain that reduce pain and promote a sense of well being. Acts of altruism and selflessness may also strengthen the body's immune system, resulting in a better defense against illness and stress by activating emotions that play a role in maintaining good health. Studies also indicate that in addition to feeling less "stressed out" after performing an act of giving, a person may actually experience a sense of euphoria or a "helper's high," which is usually followed by a longer–lasting interval of brightness in mood. All this without taking one pill or running one mile! Not to mention that presumably, the recipients of each good deed are reaping concrete benefits. Seems like a pretty good deal to me.
So why is this sometimes a challenging message to transmit to others? I guess we are basically promoting a feeling, which cannot be seen or heard, but is powerfully palpable once experienced. It took me years as a child and adolescent to understand how my father could come home smiling after being pricked and rid of his precious blood every six weeks. I now see that my father experienced the physical and emotional rewards that come from helping others and in so doing, exemplified the reciprocal nature of giving that "Be the Example" endorses.
__________________________________________________
Kindness in words creates confidence. Kindness in thinking creates profoundness. Kindness in giving creates love.

Check Out Our New Web Page
…b
e the example! is up and running on the web with an all new web page that gives you a look at both our history and

up to the minute information on fund raising efforts, programs, and events being offered.  Just click on the link below.
"Well" Done
…BE the example! was moved by the efforts of a group of students at P.S. 171 in East Harlem. The students were participating in an enrichment program through G.O.A.L. (Giving Open Access to Learning). After studying about Uganda and learning of their water needs, they wanted to make a difference. They began various fundraising efforts in their East Harlem neighborhood to create change across the world. They were determined to raise the funds needed to get a well built.
Anyone can donate money to get a well built but the inherent lesson in teaching a group of students from an under served neighborhood to help others who have less is a powerful and priceless message.
In November 2009, BTE ran The Magic of Giving, an event created to celebrate this act of philanthropy, to honor the students' willingness to step outside themselves in an effort to create change and to praise G.O.A.L.'s commitment to reinforce the spirit of making a difference.
Because the students were also learning Filmmaking, they created a video to demonstrate their commitment and fundraising efforts.  (YouTube Video) When BTE recognized they were not able to raise all the necessary funds to get that well built, we donated the balance. It was important for the students to have the well named for them and have their efforts recorded.
The story did not end there. We had requested that we be notified when the well was completed. One day, we received a note and a photo that showed that Busoga Trust America named the well built in Kyabatiti not only for the GOAL students, but unexpectedly for BTE as well. Busoga Trust was definitely being the example! and we were grateful.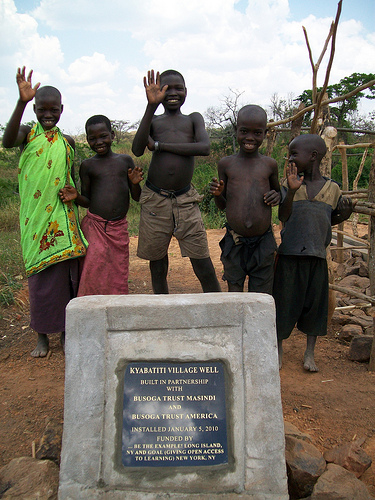 …BE the example! Internship Program
…BE the example! is proud to be participating in the Nassau Community College Business Administration internship program. On January 15th we instated this program that will run through the Spring semester. Each of the 7 interns are required to spend 180 hours during the semester and will be earning 3 college credits for their efforts.
This internship is a great opportunity for the students to learn while they are gaining work experience. They will be learning and practicing marketing skills, promotion, event planning, fund raising and will become familiar with the workings of a not for profit organization.
Because of the nature of BTE, the students will have opportunities to be inspired and empowered themselves. In order to work on the planning for the screening of For the Next 7 Generations, the students have watched the movie and have been asked to write their reflections. They will read Dan Millman's book The Way of the Peaceful Warrior and will be asked to write a paper with their reflections in preparation for the upcoming lecture/book signing of his new book, The Four Purposes of Life. Ultimately, they will have the pleasure of meeting Dan when he comes to NY in May.
We look forward to a rewarding semester with our interns.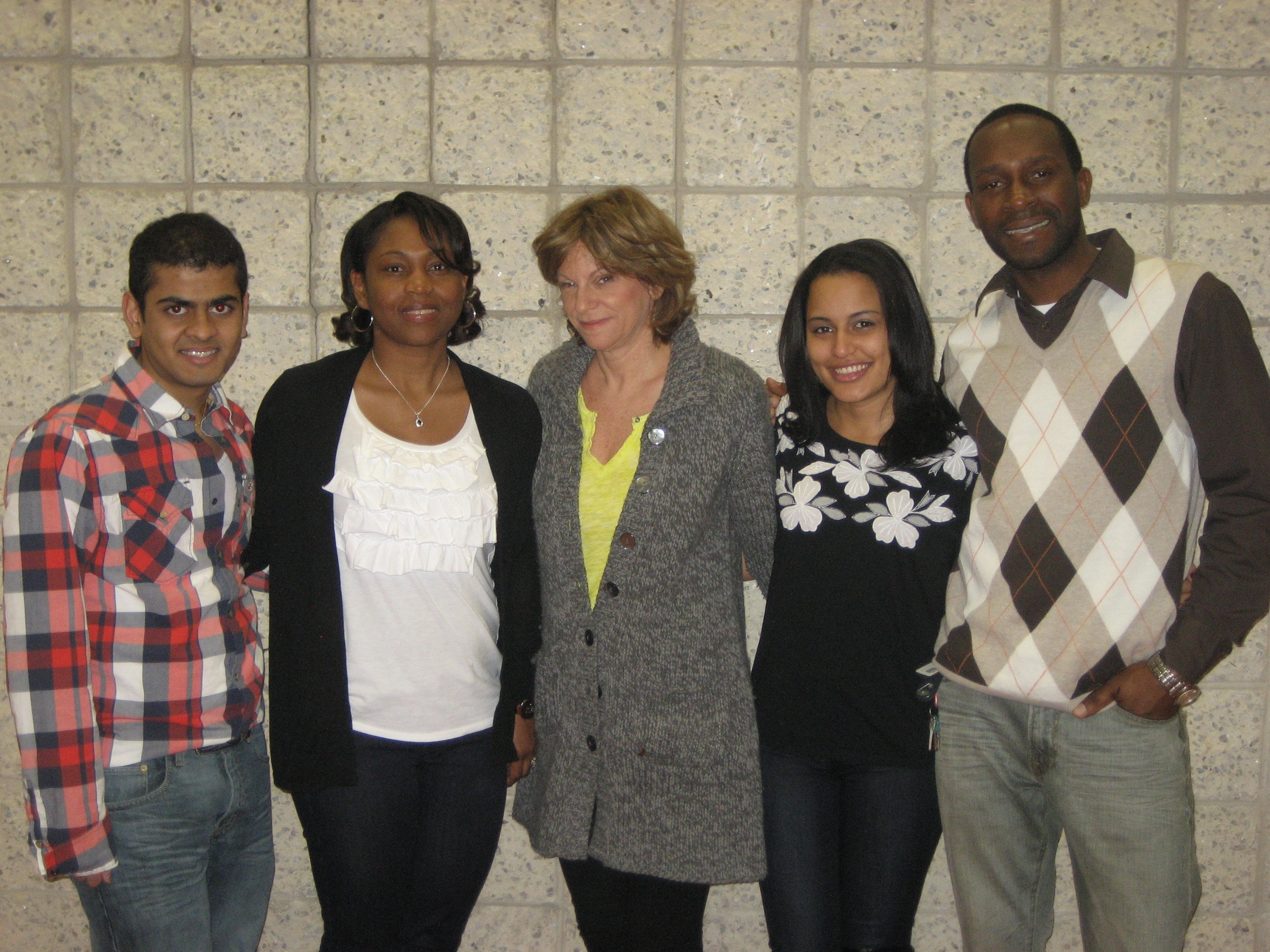 From left to right: Akash Shah, Symone Townsend, Debbie Goldman, Cheyra Diaz, Marcus Gardner
Interns not pictured: Caitlin Betterly, Jason Martinez, William Manning
Upcoming Events
Movie screening
"For the Next 7 Generations"
An inspiring documentary that tells the story of 13 indigenous grandmothers from around the world who were "called" together to form an alliance to "weave a world that works." By sharing the wisdom of their cultures they take a collective step towards bringing more peace to our planet.
Date: Sunday March 6th
Time: 3:30 pm & 7:00pm
Place: The Viana Hotel & Spa
3998 Brush Hollow Road
Westbury, NY
Price: $15.00 donation
_________________________
Dan Millman
Lecture
&
Book Signing
The Four Purposes of Life
LONG ISLAND
Date: Sunday, May 1st
Time: TBA
Place: TBA
Price: TBA
Tickets will be available on eventbrite through www.betheexample.org
Reservations required.
NEW YORK CITY
Date: Monday, May 2nd
Time: TBA
Place: TBA
Price: TBA
Tickets will be available on eventbrite or through www.betheexample.org
author of
The Way of the Peaceful Warrior
Keep checking our website for new events,updates, and details
Providing oneself with opportunities to learn and to receive fills us and expands our capacity to give in profound ways.